[ad_1]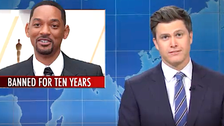 "Is that a punishment?" asked a perplexed Jost on "Saturday Night Live's" faux news segment.
"He can still be nominated and even win an award. He can even go to the after-party. He just doesn't have to attend the four-hour ceremony where someone is definitely going to make fun of his wife again," Jost quipped.
A real punishment would be to make Smith host next year's Oscars, said Jost, who hosted the 2018 Emmys with "Update" co-anchor Michael Che.
"Trust me," Jost said. "Nothing will make you question your choices in life more than hosting an awards show."
Check it out — and other "news" — in the video clip up top. Find out whose bite turned the Washington, D.C., fox rabid.
[ad_2]

Source link Comedy