[ad_1]

The U.S. International Trade Commission on Wednesday banned one of the world's biggest electric vehicle battery manufacturers from selling its cells in the United States, striking  a blow to the Biden administration's ambitious plan to electrify the nation's auto fleet. 
The decision bars South Korean giant SK Innovation from importing its batteries or the components to make them for 10 years, ruling that the company stole trade secrets from its cross-town rival, LG Energy Solution. 
The ruling gave the automakers Ford and Volkswagen, which had designed key electric models around the SK Innovation battery, a few years to switch suppliers. But the decision casts a shadow over the future of SK Innovation's $2.6 billion pair of battery facilities in Jackson County, Georgia, which already started hiring some of the nearly 3,000 workers the Seoul-based firm expected to employ by 2024. 
In a statement, SK Innovation said it had "serious concerns about the commercial and operational implications of this decision for the future of our EV-battery facility" in Georgia and said it would "immediately enter into discussions with our customers, Ford Motor Company and Volkswagen."
"We also believe that the ITC ruling could have a serious adverse impact on President Biden's policies to combat climate change and expand the electrification of the US auto fleet in coming years," the statement said. "We look forward to having detailed discussions with Biden administration officials charged with reviewing the ITC's ruling and carrying out the President's policies related to electric vehicles and the environment."
LG praised the decision for how it targeted SK Innovation but provided carve-outs for its clients. 
"They're the ones who did bad; they're supposed to get hurt," David Callahan, LG's lawyer at the firm Latham & Watkins, said of SK Innovation after the ruling. "It's whether other people will get hurt, and this ruling makes accommodations for that. All in all, we're quite pleased." 
President Joe Biden, who pledged to make electric vehicles a cornerstone of his plan to rapidly scale down U.S. climate pollution, could veto the ITC decision within the next 60 days. But it's a rarely used presidential power. In the past few decades, Barack Obama was the only president to nullify an ITC decision, blocking a 2013 ruling that would have eliminated some Apple iPhone and iPad products from the market. Ronald Reagan deployed the presidential veto at least four times in the 1980s, coincidentally once for a battery company. 
If Biden declines to veto the decision, SK Innovation can challenge the ruling in federal courts. 
The grace period the ITC is granting SK Innovation of four years to continue importing materials for Ford and two years to do the same for Volkswagen "makes it harder for Biden to veto the ITC decision," James Frith, the head battery analyst at the energy research firm BloombergNEF, said on Twitter. 
"This is potentially the worst outcome for SK," he said. 
The commission also permitted SK Innovation "to import articles for repair and replacement of EV batteries for Kia vehicles that had been sold to U.S. customers as of the date of the orders and were originally equipped with SK batteries."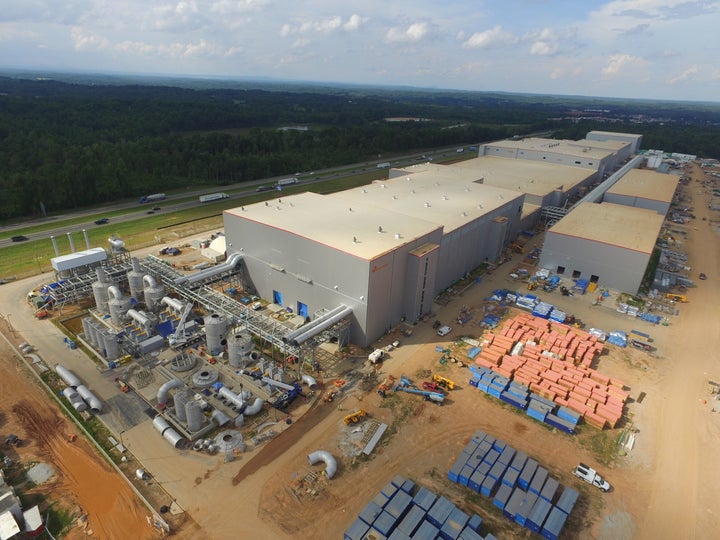 Ram Chandrasekaran, an analyst at the energy consultancy Wood Mackenzie, told HuffPost on Tuesday that "the outcome is likely to hurt the already struggling supply of EV battery packs in the U.S."
The White House did not respond to a request for comment. 
The issue stems from a 2017 dispute in South Korea, where LG accused former employees SK Innovation poached of violating non-compete contracts. But as both companies set their sights on the U.S. market, LG filed a complaint with the ITC alleging SK Innovation stole trade secrets to make its batteries. 
After Tesla, which manufactures batteries only for its own vehicles, LG ran the country's second-largest battery-making operation, making cells to power General Motors vehicles. But around the time it filed its complaint, SK Innovation was becoming a new rival in the market, breaking ground on a factory in Georgia in March 2019. 
The trouble, LG's lawyers contend, is that SK Innovation's batteries were based on "billions and billions of dollars' worth of research and development" that took LG's scientists more than 15 years to complete. 
"SKI needs to figure out how to build its own batteries that aren't based on our misappropriated trade secrets," Callahan said. "And now they have a big incentive to make a battery that isn't based on trade secrets that they stole from us."
He added: "They just can't enjoy the fruits of their theft, which is wholly appropriate." 
This is potentially the worst outcome for SK.
James Frith, BloombergNEF analyst
SK Innovation denied the claims.
"What we're confident we could demonstrate, if we had gotten a trial, is that SK Innovation batteries have completely different formulation than the formulation LG Chem uses," Sturgis Sobin, a lawyer at the firm Covington & Burling who is representing SK Innovation, told HuffPost before the ruling. 
But as the U.S. attempts to slash emissions from automobiles, its biggest source of climate-changing pollution, experts warned that the demand for electric vehicle batteries will far outpace domestic production, meaning losing the capacity SK Innovation's factory would add could prove a major setback. 
Callahan said he expects LG will ramp up production in the U.S.
Robbie Diamond, the chief executive of the clean energy advocacy group Securing America's Energy Future, painted a more optimistic picture of how the decision would affect the U.S. supply of electric vehicles, calling the grace period for Ford and Volkswagen "deft." 
"It most likely ends in a settlement for one company having to pay another company for technology over time, so they'll continue to negotiate between themselves," he said. "But it won't hurt the short-term needs of the U.S. market while those discussions get finalized." 
He said it was unlikely SK Innovation would abandon its plans in Georgia. 
"These companies aren't going to pick up and go home," he said. "It's a 300 million-car market." 
But Frith said the precedent could jolt the battery industry, where hiring away staff from rivals is a common practice. 
"It would make a lot of other battery manufacturers nervous because you do see a lot of churn between companies with scientists and engineers going from one to another," he said by phone Thursday morning. "If there's a risk that … somebody might try to either stop you from producing cells in the future, that's going to make you nervous and make your investors nervous." 
The decision may also stoke a burgeoning debate over how intellectual property regimes could slow the pace of decarbonization around the world. Policymakers, including Biden's special climate envoy, John Kerry, have pitched the shift away from fossil fuels as the "biggest new business opportunity in the history of the world" as clean energy becomes a multitrillion-dollar market.
But those profits are tied to control over patents and copyrights of the technologies needed to replace internal combustion engines and coal-fired power plants and build machines that can suck carbon out of the atmosphere. That has led some to argue for limiting intellectual property rights and allowing others, particularly countries badly affected by climate change, free access to clean technologies. 
Calling all HuffPost superfans!
Sign up for membership to become a founding member and help shape HuffPost's next chapter
[ad_2]

Source link Environment