[ad_1]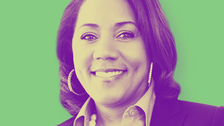 Conversations around diversity and inclusion can be uncomfortable — particularly in the workplace. In this new podcast, host Y-Vonne Hutchinson — CEO and founder of ReadySet, a diversity and inclusion consulting and strategy firm — speaks with business leaders who are driving discussions within their organizations and taking bold action to advance and accelerate change.
Working with CEO Action for Diversity and Inclusion — the largest coalition of CEOs who've pledged to advance diversity and inclusion in the workplace — Hutchinson discusses topics such as allyship, intersectional divides and mental health inclusion with C-suite leaders who are showing their organizations and their industries that now is the time to act on diversity and inclusion. 
Man on Street #1: True inclusion and true diversity is about having people from all walks of life; being able to come into a workplace and really be, feel comfortable about being their true selves. And, and I think we're sort of in the midst of trying to figure out how to do that as a culture.
Man on Street #2: To me, it's, it's about promoting a workplace environment where everyone feels like they have a voice. Are you someone who's just standing in the room saying that you're an ally? Are you someone who is actually taking the initiative to drive those things and drive that change when you see it?
Y-Vonne Hutchinson, Host: This is "Time To Act." I'm your host Y-Vonne Hutchinson. I'm a diversity and inclusion expert, and through my company ReadySet, I work with organizations to help them foster a corporate culture that helps provide a sense of belonging to employees. On this podcast, I'm working with CEO Action for Diversity & Inclusion, the largest coalition of CEOs who pledged to advance diversity and inclusion in the workplace. Throughout this series, we'll explore and highlight the recent steps companies are taking to tackle D&I, and I'll be talking to leaders of industry and diving into why they act as ambassadors for change.
In this episode, my guest is Barbara Whye, Chief D&I Officer, VP-Social Impact and Human Resources Intel Corporation. As a global leader in technology and innovation, Intel is responsible for many of the tools that make your favorite integrated devices work: from the processor in your laptop, to the modems that connect your home to the internet, to the software that powers AI and analytics services. Over the years, Barbara has spearheaded some of Intel's most successful D&I initiatives that have led to important advancements for the company. And like many guests on the show, Barbara has spoken up about the need for meaningful change to take root across the country. Growing up in the South, her experience with racism shaped her voice and leadership style in the space.
In the wake of societal unrest and injustice, you wrote a really powerful and heartfelt letter to humanity called "Where is the human and humanity?" What was going through your mind when you wrote that?
Barbara Whye, Intel Corporation Chief D&I Officer, VP-Social Impact and Human Resources: Yes. So first and foremost, Y-Vonne, I think what was going through my mind is a lot of what's on the minds of many of us. It's time for this to stop, and we really need to bring more humanness into humanity. And so when I think about so much of the social unrest, even from a kid growing up in South Carolina and deciding to move my family to the West Coast because of some racial issues that I faced as a kid, it started to feel like, "When will we wake up?" And when will we move from declaring certain things to doing certain things? And so for me, that letter, because writing is therapy for me, that's a way for me to cope and deal with things that are around me.
So, writing that letter was coming off of the tale of the two Coopers, Amy Cooper, in New York, and just the craziness associated with being able to see that scene. I think those scenes, we, we know they exist, but seeing it over and over and over again, without any specific actions changing, I think had hit a place for me that caused me pause. And it forced me to want to do something about it.
Hutchinson: In this moment, what do you hope humanity will take away from your message?
Whye: So I think the first thing that I want all of humanity to do is to self reflect. I think is so easy for every single individual to think about who's responsible for this and what other people should be doing. And I think at the core, my note was to every single one of us to individually stop and assess, "where are you on your anti-racism journey? What specifically are you going to do differently today and tomorrow to help us push through this?" For many of us, particularly chief diversity and inclusion officers across all of these companies, we have been so deeply engaged in pushing boulders uphill to really bring attention and action and access to these conversations, but also to tangible work and tangible outcomes because I think we know that activity does not lead to outcomes, and a bunch of activities doesn't necessarily mean that you're driving the right level of outcomes. So, I think I'm just trying to really crystallize the point that we have this amazing opportunity. All eyes are on these challenges. And just imagine if every single person in, in my case, 110,000 person company, if you could organize those 110,000 actions towards the right outcomes, you would get a multiplier effect on what we need to do to drive and catalyze this change.
And I had this conversation even with my son and he said, you know, I have a 27-year-old adult son. He said, "Mom, I didn't protest this time for the first time. And it was because I really am not sure if anything is going to be different on the other side." So, I think we have this unique opportunity between that gap of people who are skeptical to those of us who are fired up and really believe we can make change this time. But what happens in the middle? I think that's where the critical conversations need to occur.
Hutchinson: Yeah. I've seen you make that quote on Twitter, and every time I like to snap my fingers, I'm like, yes, action is not outcomes.
Whye: Exactly. [laughs]
Hutchinson: I'm curious, how is Intel taking action toward building more inclusive environments, particularly as it relates to tech and more specifically, where are you putting your focus?
Whye: Yeah, the good news about Intel: we've been on this journey. And so, the most recent social and racial unrest didn't prompt Intel to start a new journey. So, what I will say is, Intel was one of the first companies to be transparent about our data along the race and ethnicity lens. And that dated back, Y-Vonne, to 2002. We started reporting our data in the U.S. in our corporate social responsibility report. Then, when you look at that though, in a level of detail, although we were reporting the data, we weren't making the progress that we wanted. So in 2015, we put forth a strong initiative, a $300 million commitment that really took a stand and said, "We will achieve market availability for our U.S. representation around our diverse ethnicity groups." So, that's women, African Americans, Hispanics, as well as Native Americans. And in 2015, we set out to do that by 2020; putting forth all the work of the whole Intel machine and bringing all of our employees together around clear goals, holding ourselves accountable, making sure we were being transparent, where we were failing, but also transparent about where we were learning. And also focusing deeply on retention, we were able to achieve the market availability two years ahead of schedule.
So once we completed that stage of the journey, we set us not enough to be at market availability. You also have to make sure you have leadership representation in the right places. So, you could be at market availability, so roughly 27% women in tech, 5% African American in tech, but you may not have 5% in leadership. So, we thought it was important to say, "It's not enough to have the representation if the representation is not in the right places because we know leaders hire, we know leaders progress; they also look at pay and make pay decisions. We want to make sure that we have leadership representation throughout. Again, before all of this happened, we launched our CSR 2030 goals that we're calling RISE. There's an inclusion pillar, that's the "I" of RISE.
And we had launched and agreed and committed to that we're going to double the representation of African American leaders at Intel, Hispanic leaders at Intel, women at Intel, and Native Americans at Intel. So I think this unrest is probably accelerated the urgency around it, but those goals were preset prior to that because we've been on this journey to be more inclusive. I think what I've learned first and foremost is you can't hire your way to success here. Many of us in tech, we've done a lot of the hiring, but you if you don't focus on the inclusion and the culture of the company and making sure that employees can progress and belong in these companies, you cannot really double the representation and keep that representation sustained without addressing how employees experience the company and how they experienced their leaders and really how their voice is being respected. So, I'm challenging every single employee at Intel that they have a responsibility to be an inclusion officer, no matter which role they're in at the company. And they have the responsibility to hold the team accountable, to be an inclusive and acting as inclusive officers in the company.
Hutchinson: It's long been known that technology has traditionally not been the most diverse and inclusive industry. And while many companies are shaping their inclusive strategies for the near term in light of recent events, Intel is taking action that will shape inclusion and technology and innovation over the next 10 years. In 2018, they achieved gender pay equity two years ahead of their 2020 goal, and they've committed to doubling the number of women and underrepresented groups in senior leadership by the year 2030. Intel CEO Bob Swan was quoted recently in saying, "The sidelines are not an option." And Barbara is at the helm of the company's commitment to make technology fully inclusive and expand digital readiness to everyone.
So we're, we're talking about things that Intel is doing now. And I think that's really interesting, but Barbara, I'm curious, especially in this moment, as we're thinking about how to respond to the social unrest, that's happening, where in your experience has the tech industry really fallen short when it comes to D&I?
Whye: First and foremost, all of these things are working in systems. So I think as, as tech companies, the number one thing that we could do differently, I believe is begin to look at this work in the same way that we would look at any of the systems that we are producing or innovating on or engineering towards. We were doing a lot of hiring, but that wasn't actually helping us to sustain the representation because we were running into retention challenges. So Intel, in that case, we created this innovative service that we call the Warmline, and the Warmline was put in place to help employees who were challenged or considering, or thinking about doing something differently, either inside Intel or outside Intel; we wanted to circumvent those conversations and get on the proactive piece of, you know, "What's getting in the way with you staying at Intel?" And making sure that we did everything to listen and learn, but also try and retain that talent.
And that really helped Intel greatly. So 80% of the employees that came to the Warmline, we were actually able to save and that started to help to sustain and maintain the representation. In addition to that, it became this powerful tool for predictive analytics because all of a sudden, these thousands of people that are coming to the Warmline. I can tell if it's related to a certain business unit, if it's related to a certain theme, if it's related to a certain leader, and that helped me, and obviously HR, to start formulating the right level of strategies and solutions. So I think tech has to learn, and I'm also learning in this space, that we have to keep an eye on retention and belonging. The second thing is we should learn to adopt and come together as a collaboration. So, Intel is in the process right now of launching what we're calling a Global Inclusion Index.
We want it to be open standard. We want to bring along all companies in tech or outside of tech to start having conversations around just definitions. So I think what one company may define as a tech representation and a diverse tech leader is very different at a different company. So I think we could come together as an industry and really adopt some common language and some common standards. And also, we've started to convene with Lenovo as one example, to really start this process and this journey for all tech companies to kind of come at this inclusion work together. It doesn't mean that we need to do everything the same, but we do need some standards in place.
Hutchinson: It's really interesting that you mentioned retention because right now I feel like in the conversation, everybody's just talking about hiring. And folks aren't really thinking about what does the retention piece look like? That helpline is a really great example. And I'm, and I'm wondering if you have other examples about how you think about creating that inclusive culture that supports retention.
Whye: Absolutely. So of the cases that come to the Warmline, the top two themes and issues are growth and progression and the progression isn't always upward progression. So it can be a lattice and not a ladder, but there's a deep desire rightfully so by employees who want to come in everyday, do great work, but also progress and grow and do different things. So that was the number one thing we learned from the Warmline. And then I say, you know, when I think even further about retention, the easiest analogy for that is, everyday employees are coming in and they have many different transactions during the day. Some of them act as deposits into the bank and some of them at as withdrawals just through those transactions. And when an employee is on the break of wanting to check out, is because you got to insufficient funds.
So, I think people see big, you know, retention goals and aspirations, and not really recognize that this retention stuff is happening in micro moments. So, I want people to also understand as leaders and managers in this space, as we're trying to drive in catalyze change are, "Hey, George Floyd died. You didn't even say anything to me. And you expect me to get back to work? Really?" So retention is also happening in building in these micro moments. And we have to be so aware of those moments, if we're going to be serious about the sense of belonging for people, and by the way, belonging, as you know, it's often very customized to the individual. So it's going to be tough to get to belonging without having really good conversations, and because the conversation most often is the relationship.
Hutchinson: You can't see me, but I'm like nodding vigorously. And I'm particularly interested in your experience thinking about retention. You know, you mentioned the George Floyd piece and not saying anything. And I'm wondering if you have any tips or if there's any lessons you've learned about how to support employees in a moment like this.
Whye: Yeah. So I think silence is not the way to do it. So that would be first and foremost. I think you should have already been building relationships with people on your teams. So in the case of this George Floyd incident, the tale of the two Coopers, just simply checking in and saying, "Hey, I've been watching a lot is going on. How are you processing that?" The process of solid leadership is often through this notion of inquiry and always staying curious, and it's just meeting them human to human. And it doesn't necessarily mean that you need a full well laid out script, just simply, "How are you doing with this?" is a great place for managers and leaders to start. I would also say don't overthink it. We all are learning and growing and doing something new because the landscape socially is constantly changing. And none of us knows at all.
And we all have to embrace this with a growth mindset to try and continuously learn. To be a good leader in the next 10 to 20 years in companies, you will have to have balance and awareness and intelligence around what is happening in society because our employees are expecting us to know they are expecting us to care and they're expecting us to really take a stand on certain things. And so I think the more that we can meet human to human and give the space and the trust for people to bring those conversations forward. That's what this inclusion work is is about.
AI for Youth is an Intel program that offers skill building opportunities and partnerships in AI for the future minds of the tech industry. From there participants can apply those skills to projects that create solutions to social impact problems.
So when I think about just all of the cutting edge technology, AI being one of them. And I think what we have to do now is start to really invest and give access to those opportunities to young people. So things like the Intel AI for Youth program, and really starting to just open wide the access for all students, particularly students who are underserved first generation college kids living in poverty areas; we have to really get them prepared for entering into the future workforce. So demystifying AI, democratizing access so it's not really hinged upon which area that you live in, and increasing the quality of education for kids, but also diversifying who has access to that. And these are some of the discussions that we're having is foundationally, "What is AI? And can AI help on mitigating some of these social inequalities? And if so, how?" So I think those type conversations are important even now, if we intend to be representative of the future, we have to start building that future right now. And I think we have to start with our young people.
Hutchinson: Thank you you so much for your time. I seriously could talk to you for hours. I really appreciate it. And, and yes, best of luck with everything you're doing and the changes you're making inside of Intel. It's incredibly exciting.
Whye: Thank you. Y-Vonne. I appreciate the opportunity to be in here today.
Hutchinson: So as we said at the top of the podcast, we're still in a time of social unrest and this problem has been happening in this country a long time. It's going to take a long time to solve. And many leaders, particularly those in the tech industry are moving to ask what they can do. You know, I think Barbara made some really great points. There's something seductive about moving to action too quickly. But as she said, action does not equal outcome. Intentionality is important. And I was struck by the fact that Intel's approach to thinking about strategy, the strategy of diversity and inclusion isn't one that focuses on the short term, but it focuses on the long term and they're looking 10 years down the line. And really, I think that's what it's going to take, right? Because if quick solutions could fix this problem, it would have been fixed by now.
So what did you learn from Barbara Whye and Intel and in what other ways can the giants of the tech industry build and maintain diverse teams? We want to hear from you. We also want to know what you think of the show, so leave us a review. Subscribe to "Time To Act" for free to hear our conversations with the people who are leading the charge to improve diversity and inclusion in their companies and across industries. I'm Y-Vonne Hutchinson, and until next time, let's keep the conversation going.
[ad_2]

Source link Business