[ad_1]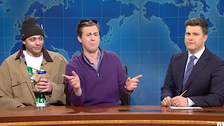 After his typical series of groan-worthy innuendos about his "boat" on "Weekend Update," Moffat introduced Davidson — in watch cap and slicker — as the "Guy Who Just Bought a Ferry."
"We're boat people now, Colin," Davidson said with a smile. "I mean, you always were. You look like you own the yacht they rent out for rap videos."
Jost deadpanned: "It's very exciting. We thought the whole thing through."
Davidson noted that "even the mayor tweeted about it," adding: "Which is how I found out ― we have a new mayor? What happened to Bloomberg?"
The two teamed up with comedy club owner Paul Italia and paid $280,000 for the decommissioned ferry the John F. Kennedy. They're planning to turn it into a club, The Associated Press reported.
Transforming the 277-foot, 2,109-ton vessel could cost millions and won't begin anytime soon, Italia told the AP. "It's really early stages here," he said.
Check out the sketch in the video up top.
[ad_2]

Source link Comedy