[ad_1]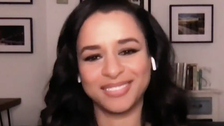 Sarah Cooper on Monday revealed her big fear about what would have become of her mocking lip-syncing videos of Donald Trump had the president won re-election.
Cooper, talking with "Late Night" host Seth Meyers, said she was "so happy" and "more relieved than anything" that Democratic nominee Joe Biden had defeated Trump ― but she admitted to being worried on Tuesday, as the election hung in the balance, that her viral clips would cease to be funny.
"If he was actually able to escape everything that we've tried to get rid of him, including me with these videos trying to point out to everyone how he was completely incompetent, then these videos would just be sad," she explained.
"But now that he's lost, they're even more hysterical," she added. "I'm very relieved for that."
"It's very sad. He's very fragile, a very sensitive man, I can't imagine what he's going through right now," she joked.
Check out the full interview here:
[ad_2]

Source link Entertainment