[ad_1]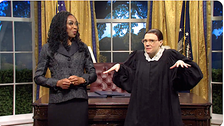 "Saturday Night Live" got positively teary-eyed celebrating the U.S. Supreme Court's first Black female justice in this week's cold open.
"I was happy to do my part," Nwodim smiles. "Work twice as hard as a white man my entire life — and then spend a week listening to Ted Cruz call me a pedophile."
Her advice? "Aways label your lunches" to protect them from sticky-fingered justices.
When Jackson complains about the condescending Cruz reading aloud from a child's book about racism during her confirmation hearings, Ginsburg guesses the title: "Goodnight Cancun."
And "that's a Gins-burn," McKinnon smirks.
Check out the cold open in the video up top.
[ad_2]

Source link Comedy