[ad_1]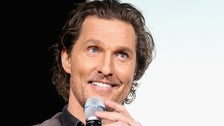 Matthew McConaughey called out anti-maskers in a new interview, saying he just doesn't buy their fear that covering their faces to mitigate the spread of COVID-19 will impact their personal liberty.
"I'm like, come on man, I'm not believing you're really scared of this little cotton thing. And I don't really feel that takes away your identity and your freedom," he said on "The Carlos Watson Show" this week.
McConaughey lamented the politicization of wearing masks ― including by ex-President Donald Trump, who frequently refused to wear one in public ― which he described as "a short-term inconvenience for long-term freedom."
"There's no data that says it's not a good thing. No data that says it's harmful," McConaughey continued. "Let's all take one for the team here. We like to say, 'We want to take one for the team;' we like to say, 'oh, the value of a human life is the epitome …' No, it's not. We won't admit it."
The actor's comments came as part of a wider discussion about his potential run for governor of Texas, his home state.
"I'm not interested in going and putting a bunch of Band-Aids on that are gonna be ripped off as soon as I'm out," he said. "I'm interested in building something that can last, and I'm measuring what category that is. I don't know if that's politics."
A HuffPost Guide To Coronavirus
[ad_2]

Source link Entertainment