[ad_1]

Kellogg's workers ended their strike against the cereal maker on Tuesday after more than two and a half months on the picket line.
The Bakery, Confectionery, Tobacco Workers and Grain Millers' International Union said workers voted to approve a new five-year collective bargaining agreement with the company. The vote was held on Sunday and the ballots were counted on Tuesday.
Anthony Shelton, the union's president, said in a statement that workers "courageously stood their ground" and secured a contract that "makes gains and does not include any concessions."
The strike involved 1,400 workers at four facilities in Battle Creek, Michigan; Lancaster, Pennsylvania; Omaha, Nebraska; and Memphis, Tennessee, significantly cutting back production of household-name cereal brands like Rice Krispies and Corn Flakes.
One of the main sticking points in the dispute was the company's "two-tier" compensation system that divides workers into two different classes, "legacy" employees and "transitional" employees. Legacy workers, who typically earn around $30 an hour, have a higher pay scale and better health and pension benefits than their transitional counterparts.
Under the new deal, all workers will receive an immediate raise, after which they'll receive a cost-of-living adjustment each year of the contract, according to an outline from the company. The new starting rate for transitional employees will be $24.11 per hour. All workers' health care plans will stay the same, and pension benefits will increase for legacy workers.
The contract also guarantees that no plants will be shut down through October 2026.
The agreement does not end the two-tier system, but it offers a path for some transitional employees to graduate into the legacy tier. Transitional workers who have four years on the job will immediately move into legacy positions when the contract is ratified. At each plant, another 3% of workers will move into legacy roles each year of the contract.
That marks an improvement on what Kellogg's initially proposed: an expansion of the lower tier with no clear way to move into the higher tier unless positions opened up. The union noted in its statement that the new contract means "no permanent two-tier system."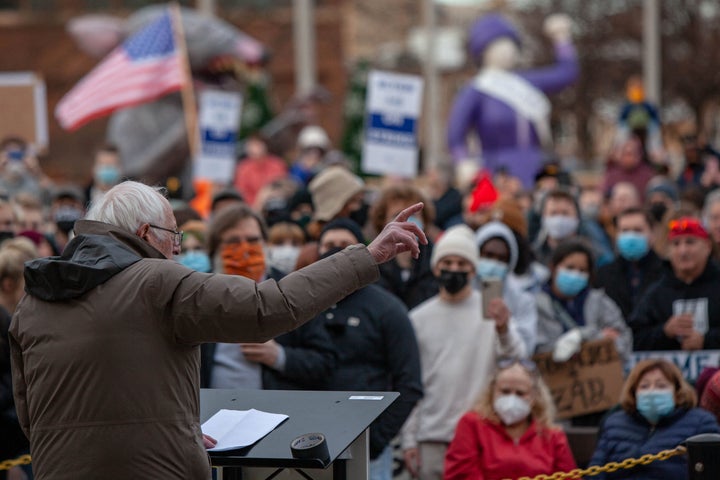 Trevor Bidelman, a Kellogg's worker and president of the union's local in Battle Creek, said he felt the contract did not go far enough in curbing the system already in place. He said he fears the company can exploit the language to increase the ranks of lower-tier employees. He would have preferred a system in which all transitional workers are guaranteed to move up after a certain amount of time.
"Unfortunately, I think some people will get stuck in transitional [roles]," Bidelman told HuffPost. "At our local we were a little disappointed. That being said, we've got to take some time and reflection."
But Dan Osborn, a Kellogg's worker and president of the union's local in Omaha, said he felt the contract overall was a success, especially considering Kellogg's demands at the start of the strike.
"We were able to retain everything we had before that they were trying to take away, and we got some gains in there, too," Osborn said.
Osborn said he was confident they could chip away at the two-tier system in subsequent contracts if Kellogg's stays profitable. He also said the company has something to prove to customers following the strike.
"Kellogg's has their work set out for them to repair their relationship with the public," he said. "I don't know how long that's going to take."
Bidelman said he was proud of members who took to the picket lines against a powerful company that was demanding concessions. The workers drew supporters from around the U.S. and overseas who said they wouldn't buy the company's products until they settled a fair contract. Sen. Bernie Sanders (I-Vt.) joined workers for a rally in Michigan on Saturday.
"Staying out this long is a huge step," Bidelman said. "We inspired many people."
Steve Cahillane, Kellogg's CEO, said in a statement Tuesday that the company was "pleased" to have reached a deal to end the strike.
"We look forward to their return and continuing to produce our beloved cereal brands for our customers and consumers," he said.
Workers had rejected a similar deal in a vote two weeks earlier, opting to stay out on strike in hopes of securing a better offer. Kellogg's responded by threatening to permanently replace them with other workers, meaning strikers might never return to their jobs.
Labor law is complicated when it comes to permanently replacing strikers, but in general employers can legally do so when workers are striking for "economic" reasons ― i.e., to improve their pay and benefits.
The union filed unfair labor practice charges against the company, accusing Kellogg's of breaking the law during the strike, a move that could have legally blocked the company from replacing workers for good. But workers voted to end the strike before the federal labor board determined whether there was merit in the union's charges.
Bidelman suspects that many workers were understandably worried about the prospect of being replaced and losing their union jobs. He imagines the threat tipped some votes into favoring ratification.
"The replacement threat was really the biggest piece," he said.
Workers had not gone on strike at Kellogg's in decades, and their work stoppage turned out to be one of the longest ones of the year. Osborn said the strike created new relationships and a sense of common purpose between the different plants scattered around the country.
"We're definitely stronger going back into that building than we were coming out," he said.
[ad_2]

Source link Business