[ad_1]

Hospital chaplains are specialists in grief, trained to provide comfort to dying patients and families experiencing the deepest pain and loss. But the scenes inside hospitals hit hard by the coronavirus pandemic have tested their calling like perhaps no other event in our lifetimes.
HuffPost talked to six chaplains about trying to connect with people without the aid of touch or sometimes even personal presence, the trauma they've witnessed among their medical colleagues, and how the United States might begin to grapple with the scale of these losses.
These interviews were conducted between April 15 and June 2. They have been edited for length and clarity.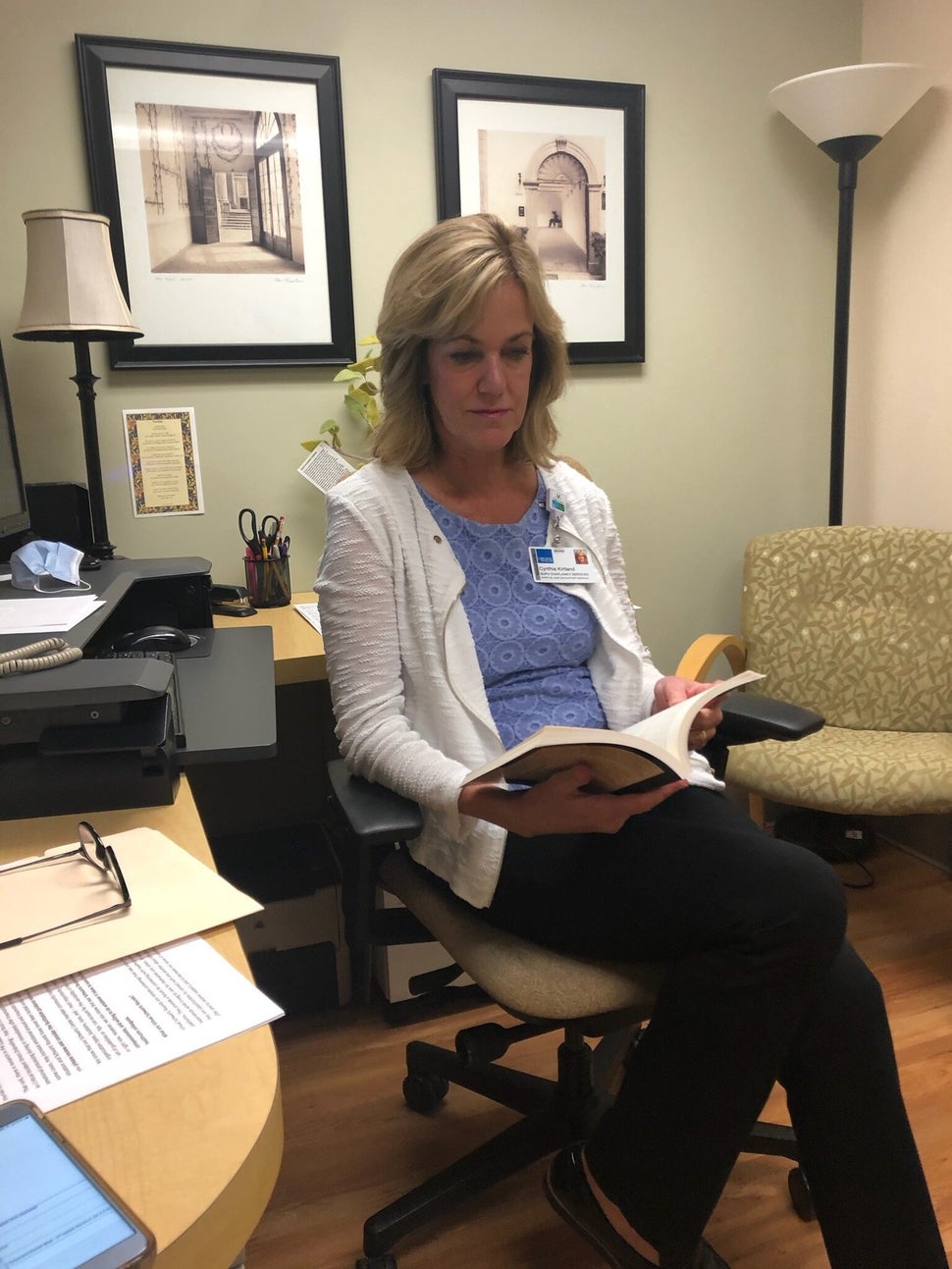 Cynthia Kirtland
Presbyterian Church (USA) minister and supervisor of the spiritual care and support team at Virginia Mason Medical Center, Seattle
How has the virus changed your work?
A typical day before COVID-19 consisted of meeting new patients — post-surgical, new diagnosis, end of life, anxious, sad or fearful — supporting family members, holding support groups for staff and the community.
What I have learned is that it is very difficult to show care and deep empathy behind a mask and gown and without touch. Our time with a patient and/or family is so rooted in a bedside presence, holding a hand, offering solace.
When the virus first turned life in our community and at our hospital upside down, I felt a weight of sadness for all who lost so much: their health, their finances, their jobs, their hope. It was oppressive. But I've sensed something else take root in our community and among my colleagues, and that is the sense of solidarity.
Like so many, I miss the sense of community we have in our jobs, at our schools, with our places of worship. I don't think there will be a set time when "this is over." I think it will be more like an unfolding, a slow realization that we are being healed.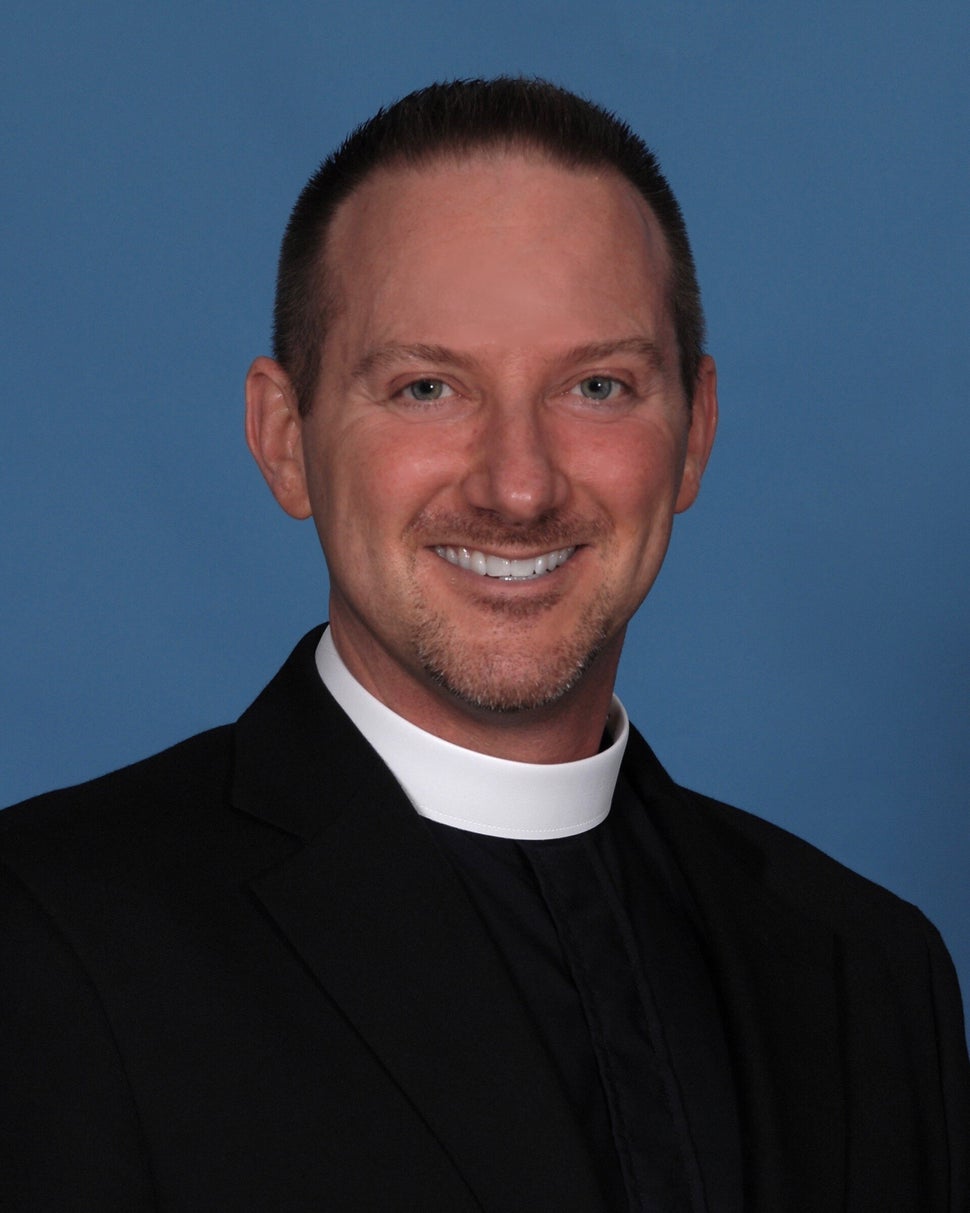 Rev. Michael S. Bell
Episcopal priest and director of spiritual care services at PIH Health Good Samaritan Hospital, Los Angeles
Are you able to be physically present for patients?
While we're always mindful of respecting cultural and personal preferences with regard to physical touch and proximity, the climate of fear around COVID-19 has made some of our natural comforting instincts taboo. Daring to reveal one's full face without a mask can now seem startling and yet also more meaningful. Even some cultural and personal preferences about sustained direct eye contact are being challenged, as we all have to read more into what is being communicated with just our eyes in some cases.
What are the most stressful things about your work now?
Keeping my own roller coaster of emotions in check while hoping to be a non-anxious, compassionate presence to others who are expressing strong frustrations and tearful fears as they cope with daily trauma and grief. It's sometimes painful to witness our care team professionals trying to compartmentalize so much distress while continuing to offer their best care.
What are some things that you do that you've found to be especially comforting for coronavirus patients and their families?
In one instance, a patient was dying in an isolation room and the patient's spouse feared being inside the room due to her own health conditions. One of our chaplains remained at the spouse's side just outside the room to help share the pain of not being at her partner's bedside as he died. In another instance, using both smartphones and a camera-equipped tablet, one of our chaplains remotely collaborated with a nurse on a COVID unit to connect family with both their dying loved one and a clergy person from their tradition. Only the nurse and the dying patient were in the physical room, but a sacred virtual space was created whereby people could see and hear from each other before the patient died.
How are you coping with this personally?
Beyond ingesting more emotionally comforting carbs and sugar than I would normally, I'm limiting my exposure to televised news as well as reducing my intake of social media. My prayers at night and in the morning have become more raw, sometimes offered without words, just cathartic tears.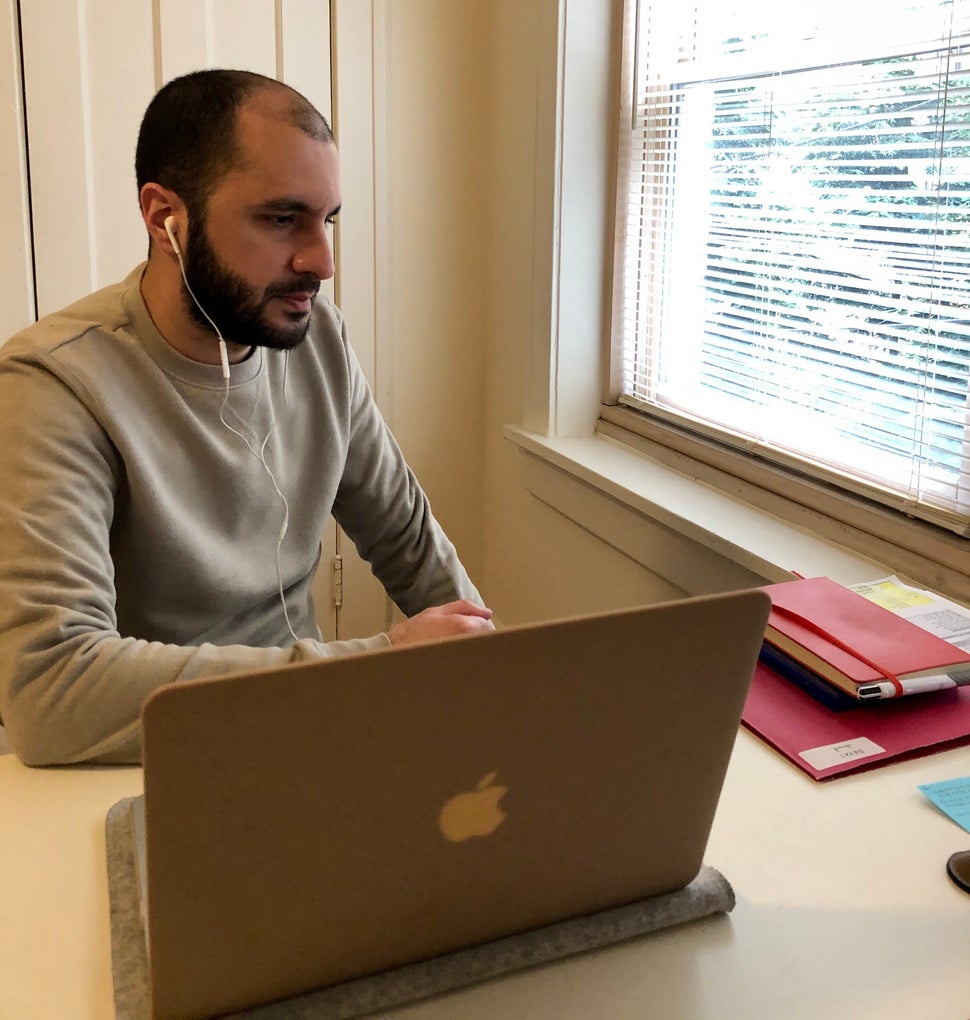 Imam Jawad Bayat
Muslim chaplain and educator at Cleveland Clinic, Cleveland
Are you able to be physically present for patients?
As a Muslim chaplain, everyone would say that being in person with a patient who is dying, reading the Quran in person, would be of primary preference. But in times of a pandemic, the things that are preferred change. In the hospital, we used to have two Jummah prayers each Friday because we couldn't fit everyone into one space at a time. We would have 150 to 200 attendees ― patients, family and visitors. About 60% was probably staff and caregivers. Right now, because of social isolation protocols and because the hospital has limited visitors, that has been impacted.
What are some things that you do that have helped coronavirus patients and their families?
As chaplains, we're really well trained in being able to deal with anxiety and we're trained in building rapport very quickly. When people can't stop thinking anxious thoughts, here I am modeling a non-anxious presence. One patient I talked to, she was isolated. She was telling me about how her family isn't able to be here, how she's usually at home taking care of her 5-year-old grandson. I was just reflecting that back to her, echoing it back, and I could hear her lighten up. She got more passionate and that intonation, that rich texture that comes out when people feel joy, that started coming out. That's exactly what I try to do, just be an emotional and spiritual resource. And she gave me an outcome at the end ― she said, "Thank you, you don't know how helpful this has been."
How are you coping with this personally?
My wife and I are expecting our first child. I could go down the rabbit hole of "My child is coming in the time of a pandemic!" but I'm not thinking about it like that. That's the reality, but there's a lot of joy in being able to feel my wife's belly and feel our baby kick and do whatever the baby is doing in there, being in the present moment with this miraculous thing that's happening.
The other thing is, I'm actually a gamer. I play video games. I particularly like games that have a story, so narrative-based games. In video games, you're fighting and moving forward in these levels. It brings a sense of relief and comfort and joy because of that instantaneous gratification that comes with it. It's helping. There's just a relief in playing it for about an hour or half-hour at the end of the day, after the workday is done.
Do you feel differently about your job in any way?
Sometimes I worry. I think that's true with professions that aren't front-line. Everyone knows that doctors and nurses need to be there; without them, patients may die. So in that context, I wonder if our jobs are going to be secure. But you know what? We're essential spiritually. The anxiousness and grief that chaplains are called to help with is more relevant now and will be even more relevant after this ends, whenever it ends.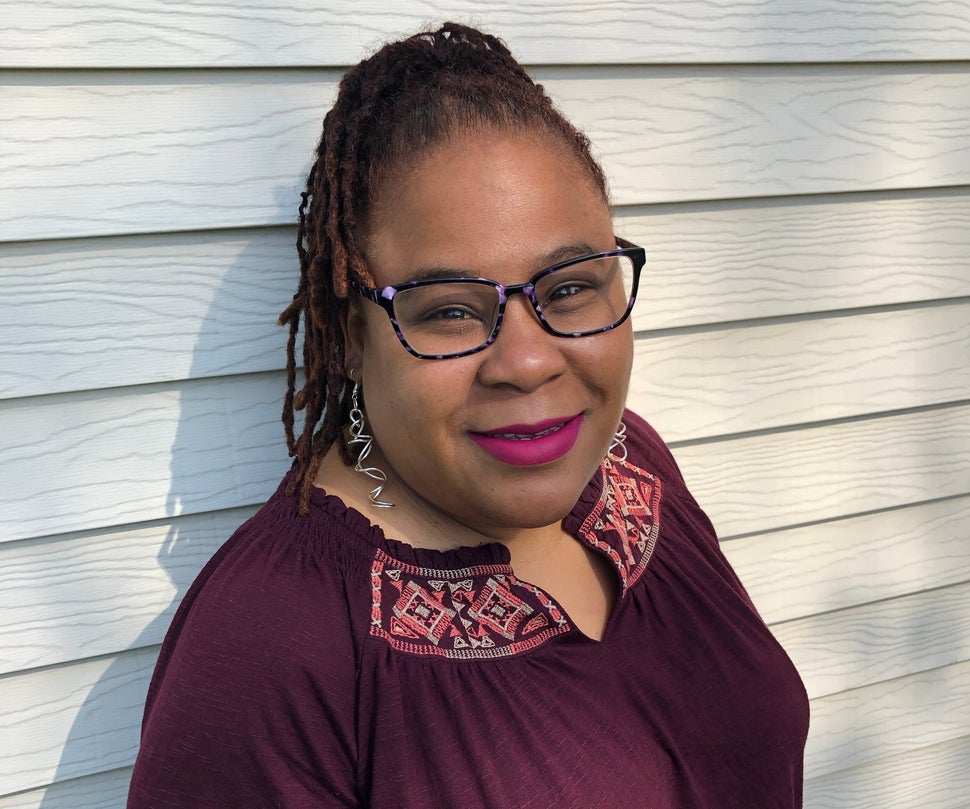 Nicole Smith
Evangelical Covenant Church chaplain at Hennepin Healthcare, Minneapolis
How has your job changed due to the coronavirus pandemic?
That first week, I spent a lot of time with staff because families were slowly but surely not allowed to be in the hospital to stop the spread of the virus. So the majority of my days began by just talking to staff. Letting them share whatever is going on with them, their fears and anxieties.
I have to wear a mask and goggles. It usually lets down patients' guard to see my face, a friendly face, a smile. I usually come in with a cheerful voice. Now my voice is muffled and people have to ask, "What did you just say?" I'm not even sure they can see my eyes. I hope my eyes are smiling.
How are you coping with this personally?
My spirituality, prayer and turning to the Bible is one way. Another way is my family. Cooking together, playing cards, making each other laugh, being goofy, going on walks together. It has been life-giving to me when I come home. And music, music, oh my gosh. I call my car my sanctuary. Just blasting music, singing the words and thinking about the words as I'm going to work and leaving work.
Has the pandemic affected you financially?
Because some family members are not able to work, we have to help support each other more. So I'm trying to cut down what I spend so that if things get harder, I will have savings to go to. I believe that as a family, we are better off doing stuff together. I think that's a model that has been traditionally part of African American families. If we're struggling, we'll struggle together so we won't all find ourselves down and out. I do whatever I can to be a good steward.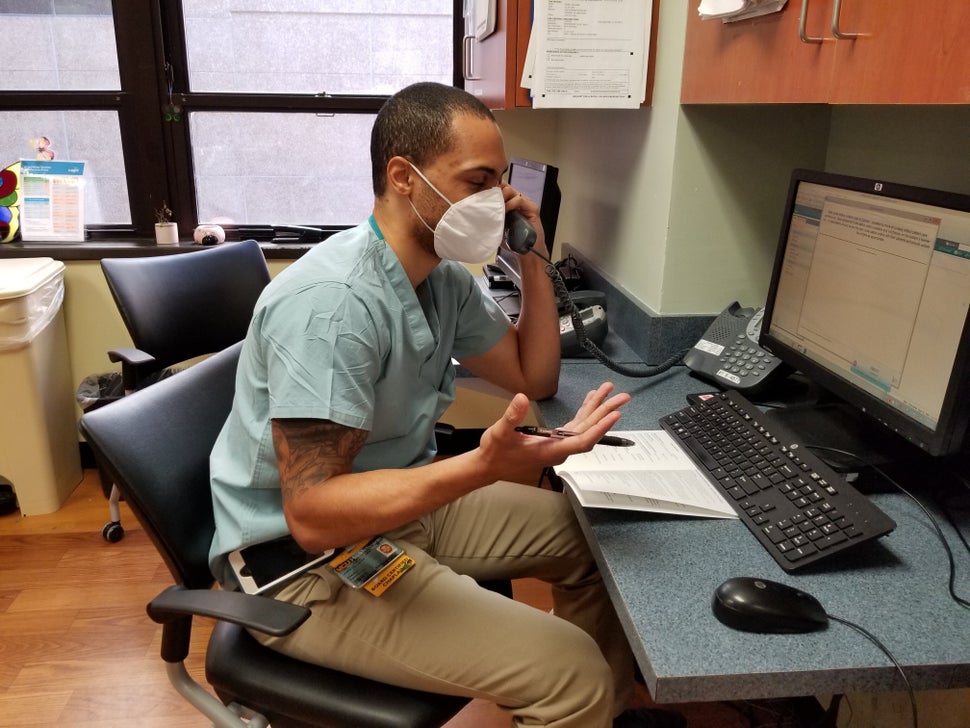 Jason Callahan
Humanist chaplain for the Thomas Palliative Care Unit at Virginia Commonwealth University's Massey Cancer Center, Richmond, Virginia.
How has your work changed due to the pandemic?
The palliative care aspect of things has changed tremendously. Since we were getting ready for the potential influx of COVID-positive patients, for end-of-life care, we began finding options for patients who wanted to get discharged home. There is a lot more staff care being done because of the risks of being a caregiver in this environment and the toll it takes on people daily. We have taken on the family role as well. We loved our patients before, but now it means something else entirely.
What are some things that you do that you've found to be especially comforting for coronavirus patients and their families?
Constant communication is key. We just have to do that a lot more to reassure families and patients. Listening and finding a way to put pieces of them in the room goes a long way as well. I'll get emails from families that will send me pictures to print up and post in the patients' rooms. Or I will write down an inside joke from a family member and have the nurse read it to the patient when they go in, just to get a smile.
Has the pandemic changed how you feel about your work?
I feel like chaplains are more essential now than ever. If chaplains were expected to justify our presence in health care systems before, I bet now people are starting to see the need to have us clear as day.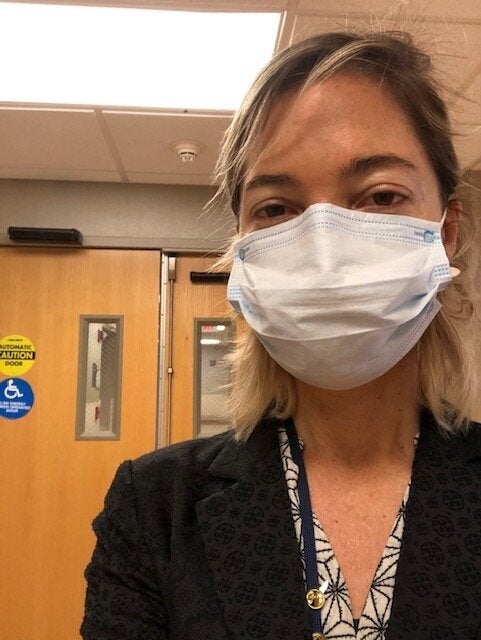 Mary Remington
Buddhist chaplain and director of the spiritual care department at Good Samaritan Hospital, Suffern, New York
How has the pandemic changed your work?
When a significant percentage of our patient population had a COVID status, when I entered our department each day, I'd write down the names of the patients who died overnight. I'd sit and do a small prayer with their names in hand. We still allowed end-of-life visitation for our dying patients. One or two family members or friends were allowed to make this final visit. We safely helped them don personal protective equipment, took them to their beloved and supported them in their often heart-shattering grief. There were days when this was all I did.
Our hospital now has a significantly lower count of COVID-19-positive and rule-out patients. We have celebrated over 600 patients who have been released home. Their exits down our hallways have been lined with staff cheering and non-contact high fives and hugs. The hospital is now easing back into more regular functions. Maybe we are returning to something near normal.
Yet I feel as we ease back into this "normality," we are forever changed by some tsunami that washed over us. It will take years to process all we have experienced in just a few months. And there may be memories that are just too painful to even touch. My focus now is how to help us recuperate together in small groups, large groups and one-on-ones.
What are the most stressful things about your job now?
Being in a New York hospital, we must be mentally and emotionally prepared for potential COVID spikes and waves to come. We are together in this inflection point, a mark in history, and we are learning as we go.
A chaplain's work is often not fully understood. How could anyone want to work with sickness, death and suffering all day? All I can say is it is these things and it is so much more. The work of a chaplain is really the work of "walking along," of being inclusive to the whole of our human experience.
Do you have any thoughts on how the country can collectively acknowledge such a huge loss of life?
Acknowledging the death related to COVID-19 not only includes all the loved ones we lost, but it also includes our loss of being physically close, a loss of our economic ground, a loss of our mobility, a loss of how we view the future, a loss of our faces … just to name a few. The depths of loss are profound and total, and the impact is global.
How to acknowledge all this grief?
I am sure there are a million ideas out there that would be deeply serving and wonderful. And I've no real ideas or suggestions. But as I sit for a moment and close my eyes, it sure would be lovely to launch some kind of manmade star that circulates the earth, one we could all see, reminding us of our ability to uphold one another.
[ad_2]

Source link Religion