[ad_1]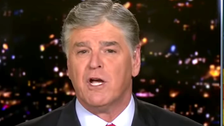 A HuffPost analysis found many of the protests, encouraged by President Donald Trump, have been fueled by conspiracy theorists, white nationalists and other fringe groups.
Check out the audio here:
Hannity later repeated the claim on his widely watched TV show. 
"Americans are dying to get back to work," Hannity said in a lengthy rant about Democrats, who he accused (without any hint of irony) of politicizing the public health crisis and using it to flush U.S. values "down the drain." 
Hannity has himself politicized the contagion multiple times, accusing Democrats and the media of "weaponizing" the virus "to bludgeon" Trump.
The TV host has been in lockstep with Trump on the pandemic, downplaying the threat and defending the president's response.
Check out the clip and Hannity's comments from the 4:45 mark here:
A HuffPost Guide To Coronavirus
[ad_2]

Source link TV & Film