[ad_1]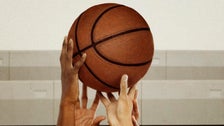 Parents, students and teachers in Norman, Oklahoma, are condemning racist comments made by a basketball announcer during a recent game livestream.
On Thursday night, players from the Norman High School girls basketball team chose to kneel during the national anthem before a playoff game against Midwest City High School.
One of the announcers covering the game for the National Federation of High School Network reacted by using a racial slur, which is written out below, to refer to the players. His comments were caught by a hot mic.
"They're kneeling? Fucking niggers," an unidentified man said, as reported by The Oklahoman. "I hope Norman gets their ass kicked. Fuck them. I hope they lose. C'mon, Midwest City. They're gonna kneel like that? Hell no."
Norman High School basketball coach Frankie Parks condemned the network and the announcers for using the slur, included a clip as proof.
Team players pointed out on Twitter that it was slurs like the one said during the livestream that inspired similar protests in the first place. Former San Francisco 49ers quarterback Colin Kaepernick initially drew attention in 2016 for kneeling during the anthem ahead of football games to protest police brutality and racial injustice.
Norman Public Schools Superintendent Dr. Nick Migliorino said in a Facebook post that the District "will not tolerate the disgusting words and attitudes of these announcers."
He added: "This type of hate speech has no place in our society and we are outraged that it would be directed at any human being, and particularly at our students."
Norman Mayor Breea Clark was also "livid and absolutely disgusted about the racist and hateful comments" and called for the Oklahoma Secondary School Activities Association (OSSAA) to stop using NFHS to livestream games in a Facebook post.
OSSAA executive director David Jackson told Oklahoma City ABC affiliate KOCO TV that the crew involved in Thursday's incident will not be doing any more games in the playoffs.
NFHS also posted a statement on social media condemning the remarks and said it is currently "investigating the matter and the individuals involved," but promised those individuals would not be working with them any further.
On Friday afternoon, announcer Matt Rowan took responsibility for the racial slurs in a statement shared by Dylan Goforth of The Frontier. Rowan said he has type 1 diabetes and "during the game my sugar was spiking."
"While not excusing my remarks it is not unusual when my sugar spikes that I become disoriented and often say things that are not appropriate as well as hurtful," the statement read.
He also claimed that "while the comments I made would certainly seem to indicate that I'm racist, I am not, I have never considered myself to be racist and in short cannot explain why I made these comments."
CORRECTION: A previous version of this article named a man who The Oklahoman had identified as the announcer who used the slur. The Oklahoman has since updated its report to say that an employee for the streaming service that broadcast the game told the newspaper it had misidentified the announcer.
Calling all HuffPost superfans!
Sign up for membership to become a founding member and help shape HuffPost's next chapter
[ad_2]

Source link Sports